Welcome to
Bofinger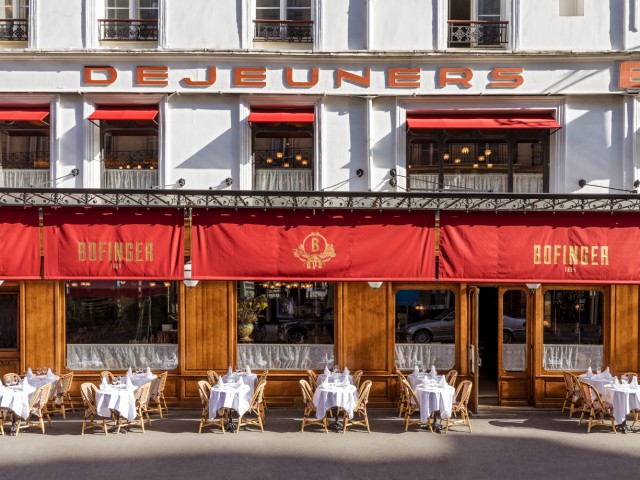 Bofinger
[THE
BEST SAUERKRAUT IN PARIS]



Located between the Place de la Bastille and the Place des Vosges, the
emblematic Parisian brasserie Bofinger has been able to survive through the
ages while preserving its soul in an exceptional historical setting.



In this institution known as one of the most beautiful brasseries in Paris,
the chef concocts the Alsatian specialities for which the place is famous:
the Kougloff with French toast, the Soufflé with Grand Marnier, or the
"best sauerkraut in Paris" cooked in the traditional way. At
Bofinger, you will also find a huge seafood bench, and the great classics of
the brasserie with French specialities, dishes that reflect the image of the
place: simple, friendly and warm.



The restaurant is open late in the evening for after show dinners. It is
also open on Sundays.
Bofinger BRASSERIE – FRUITS DE MER A EMPORTER Paris
General information
Cuisine
Brewery, Traditional French, Alsatian
Business type
BRASSERIE – FRUITS DE MER A EMPORTER
Services
Air Conditioned Room, Kids Menu, Open on all holidays, Late closing, Open on Sundays, WiFi
Payment methods
Debit Card, American Express, Visa, Cash, Eurocard/Mastercard
Access
Underground
Bastille ( ligne 1,5,8 ) Gare SNCF de Paris Gare de LYON
Parking
Parking Saint-Antoine Parking Opéra - Bastille Parking Ledru Rollin
Mon

-

Fri

12:00 - 15:00 18:30 - 00:00
Saturday
12:00 - 15:30 18:30 - 00:00